"OUR NEWEST ADDITION"
PLEASE MAXIMIZE YOUR SCREEN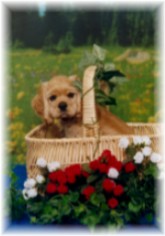 INTRODUCING OUR LITTLE SUNSHINE

"SHAMMEE"."
(Hakunamatata Sunshine Shammee)

Welcome to my new page, I thought it would be nice to introduce you to someone very special and new in our lives. This "expensive piece of fluff" has brought much love and laughter back into our lives :o). (A few more grey hairs too!!) Soooo without further a do I introduce you to the most beautiful purebred American Cocker Spaniel puppy we've ever seen......Shammee.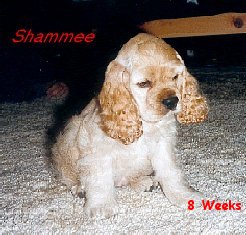 Shammee was born August 5th, 1999. She became part of our family on October 4th, at 8 weeks of age. The minute I saw her running in the breeders back yard amongst 17 Rodesian Ridgeback puppies I fell madley in love!! She certainly showed her puppy friends that she was no "whimp"! She could play with the rest of them and hold her own! I was finally able to catch her long enough to take a closer look at her.......SHE WAS ADORABLE!!!!! I knew right then I was hooked line and sinker, she was coming home! She snuggled in my arm and fell asleep,it was puppy love from that moment on! I thought to myself wow shes so quiet, so mellow, just the type of puppy I wanted..... Well, I couldn't have been more wrong! :o)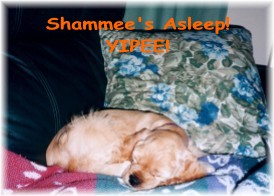 Shammee made herself at home with very little problems. She was never out of one of the kids arms or yes; I admit it mine! She learned very quickly how to give that certain cute look to save herself from getting in trouble! She'd look at you with those big brown eyes and the most adorable face that you could never stay angry at her for long. She went from being called Shammee to aka "Lil Miss Troublemaker"! Remember me saying that she was so mellow.....I lied! She's a pistol,theres never a dull moment with her around.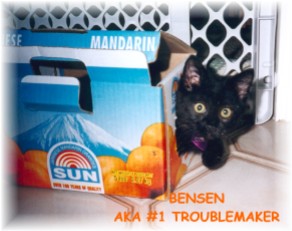 Shammee has done her basic Dog Obedience Class and actually passed!! I honestly think it was her "cuteness" that got her the pass :o). She actually is a veryyyy smart puppy (if you can get her to sit long enough to listen!)and learns extremely fast. Shes loves to have tummy rubs and is a real ball hog! She will run after a ball all day if you let her....boy can this little "piece of fluff" run! ZZZOOOOOMMMM and shes gone! Shammee does very well with hand signals to get her to sit and lie down(if she'd just do it for more than 1/2 a second!)she goes up and down like a yoyo! When Shammee was 10 weeks old my daughter Brittany talked me into getting a kitten, "ohhhh pleaseeee Mom, I promise to take care of it!" Apparently I got sucker written all over my forehead! The next thing I knew we were at the SPCA and coming out of there with a "new furry black friend"! Introducing "Bensen" aka Bensenatti # 1 TROUBLEMAKER!!! Shammee isn't even in the running with Bensen around! I was very concerned as to how the 2 of them would get along, but I must say I was totally surprised! There are no closer buddies then the 2 of them! They sleep together, play together, and even clean each other, it's most definately "kitty and puppy love." I'am a true believer that a dog and cat can be friends, these 2 are proof!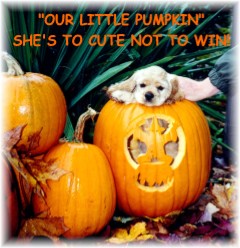 Shammee will be starting her show carreer on the 1st of April, 2000. We have high hopes for her to start to recieve her Canadian Championship and onward to her American. I have a motto in my house, pet first, showdog second. Even though I'm very excited that Shammee is going for her championship she is and always will be our "baby" first! I will definately be taking pictures of her at her first show so that I can put one on her webpage. Shammee will also hopefully be bred and have wonderful show quality puppies in the future. Of course we wouldn't think of that now but give her another 1 1/2 years and shes tested for her hips (OFA) and eyes it will be a serious thought.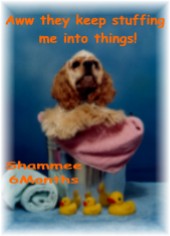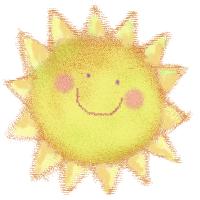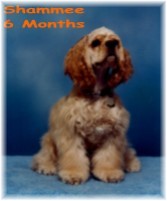 Our Shammee starting to grow up and as beautiful as ever
6 Months old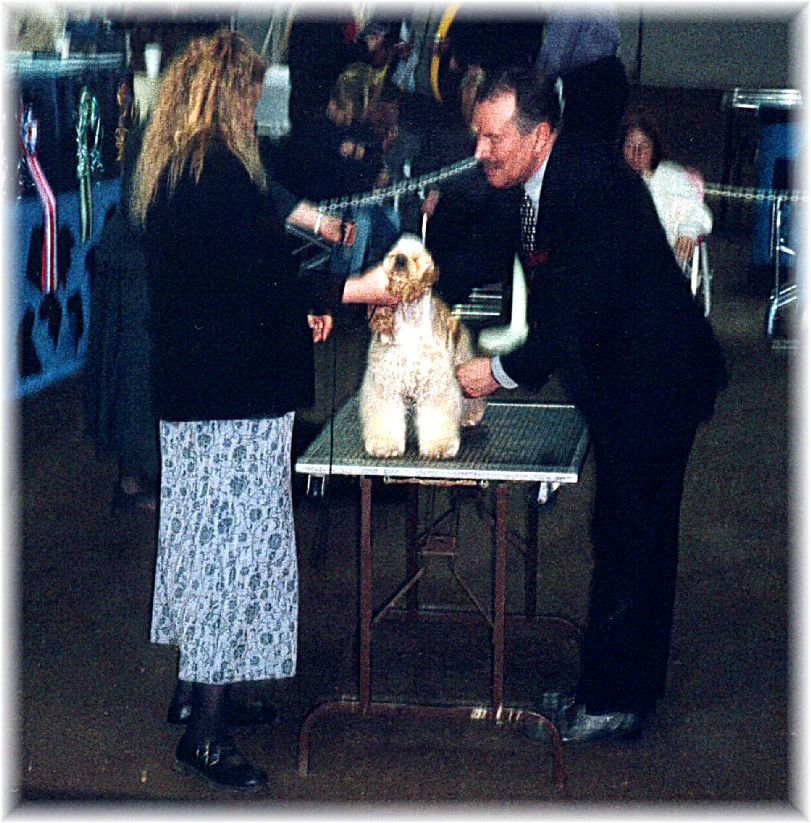 Shammee did extremely well in the show ring for her very first time, I must say shes a natural! What we were trying to accomplish for her very first time is to see if she liked the show ring, we were pleasently surprised.Shammee had only 1 thing that both me and her handler felt hurt her in the ring. The month before her show she went into her very first heat. It is a very well known fact that some female cockers do what is called "blowing their coats" because of the female hormones while being in heat. Well I guess I don't have to tell you who was one of them...poor Shammee!! When cockers are shown their coats play an important role to the judges, they need a wonderful long flowing coat!! Shammee's coat was losing its "puppy flow". So her confirmation and beautiful looks were not enough, it hurt her in the ring. But we think she did extremely well! She came home to a hugh juicey bone just for her. However I forgot to point out she did take 4th in the specialty class over 17 dogs!! Now heres a judge that knew something, even without coat and only to be 7 months old! She also came home with ribbons which I promptly took pictures of her with; just so she knew how proud I was of her.TO LOOK AT SHAMMEE'S PEDIGREE, PLEASE CLICK THE LINK BELOW
Hakunamatata's Sunshine Shammee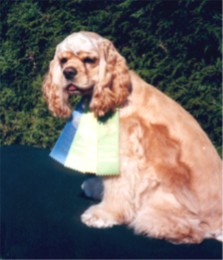 Since we took Shammee into our hearts, I often wondered what it would be like having another cocker spaniel.Shammee has truely been a godsend for me especially. She has brought so very much joy back into my life,I can honestly say I really never knew you could love a dog so much! I would protect her just as I would my own children, I love her that much!!! Shammee has inherited quite the list of "cutsie" names; heres just a few of our favorites. Shammee Girl, Shammeekins,Shamdog and our all time favorite Shammee Sham Drops! Having Shammee and the love we have for her has made us think about getting another "expensive piece of fluff" to love. With patience and lots of facts we were able to find another little brown eyed sweetheart! If you would like to find out more about our newest fluffy addition please scoot over to the next page...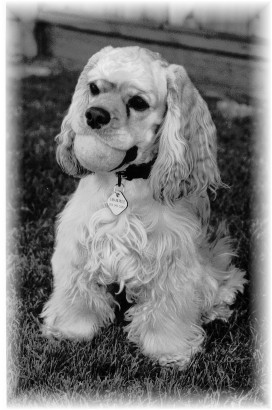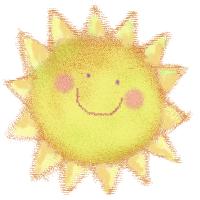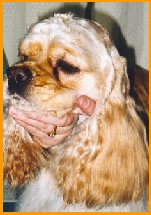 (Picture to left)Shammee 13 months old and all grown up!!
She has in her mouth the thing she loves the best...HER BALL
(Photograph courtesy of Wright Photography copyrighted)
(Picture to right)Beautiful head shot of Shammee, 18 months old

OFA GOOD, EYE CERF NORMAL, BRUCELLA NEGATIVE

PLEASE VISIT MY OTHER WEBPAGES:
My Beautiful Angel Tyler
My True Inspiration
TO LEARN A BIT MORE ABOUT MY BREED, PLEASE GO TO THE LINKS BELOW:
Canadian Kennel Club
American Kennel Club
American Cocker Spaniel Breeders
*American Cocker Spaniel Information Page*TO VISIT SOME OF OUR COCKER FRIENDS PAGES, CLICK ON THE LINKS BELOW:
Freedom Cockers
Bleumoon Cockers
Uplord Estates Cocker Spaniels


PLEASE CLICK ON BUTTONS BELOW IF YOU WOULD LIKE TOO:
SIGN,OR VIEW MY GUESTBOOK OR EMAIL ME



CLICK ON THE BONE BELOW TO MEET
"THE NEWEST MEMBER OF OUR FAMILY"